About Us

Professional Service, World Class Quality.
KWE Resources Network Sdn Bhd ("KWE") is specializing in providing application and recruitment consultancy services of quality skilled, semi skilled and unskilled manpower from cross border countries such as Nepal, Myanmar, Philippine, India, Indonesia and Thailand for more than ten (10) years.
Incorporated in 1990, KWE has established a reputable and reliable foreign manpower services to its valued customers without compromising customers satisfaction in various sectors i.e. manufacturing, construction, agriculture, and servicing.
We are a licensed outsourcing company registered with Ministry of Home Affairs, Government of Malaysia in providing foreign workers.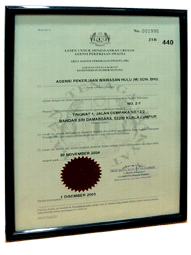 Our mission is "To provide quality service in fulfilling the needs of customers."
Services provided are as below:
KDN Approval
Work Permit Renewal
MLVK Certificate Application
Professional Visa (DP 10) For Expatriate And Skilled Worker
Malaysia My Second Home Application
Spouse Program
Hospital Nurse Program
To better service its customers, KWE has committed to build a long-term business relationship with its valued existing and potential customers by providing after sales service. KWE has set up a Customer Service Department solely to assist its customers to solve problem which may arise upon arrival of workers.